Marble Inlay Flooring
---
Marble Inlay Flooring, tailored specifically for opulent and expansive environments. Whether selecting from our extensive catalog of distinctive marble designs or providing your preferences as a starting point, we collaborate closely with you to craft extraordinary statement pieces that perfectly align with your personal style or that of your clientele.
As industry trailblazers, we specialize in providing a range of exquisite marble inlay products from India, including dining tables with brass inlay, brass-inlaid marble flooring, high-gloss marble inlay flooring, intricately designed water jet marble inlay flooring, and impeccably polished marble inlay flooring. Our assortment of waterjet mosaic collections encompasses daring geometric patterns to intricately embellished decorative marble inlays. Each collection of intricate marble floor designs is individually customized to harmonize with the architectural and interior design elements of the specific space. Our accomplished team of designers partners with you to ensure that our marble inlays, whether destined for floors, walls, or ceilings, seamlessly enhance your interior or exterior project.
The painstakingly created Custom Marble Inlay Floor Designs serve as exquisite decorative enhancements, bestowing your residence or property with a sense of enduring artistic refinement. At tilohandicrafts, our team of innovative flooring inlay designers specializes in fashioning distinctive and personalized marble mosaics and inlays for both residential and commercial purposes. Drawing on our extensive expertise and deep familiarity with premium materials and traditional European mosaic designs, we have the capability to metamorphose your space while accentuating your distinctive individual identity.
Marble Inlay Flooring by tilohandicrafts brings a seamless fusion of modernity and timeless craftsmanship to your home. Discover an array of floorings, door panels, wall hangings, and more to customize your living space into a masterpiece. tilohandicrafts is a celebration of artistry, specializing in the culturally rich tradition of Marble Inlay surfaces. We present a diverse range of collections, each as exceptional and refined as the next.For those who infuse their hearts into their abodes, this delicate, handcrafted artwork is the perfect means to infuse a touch of elegance.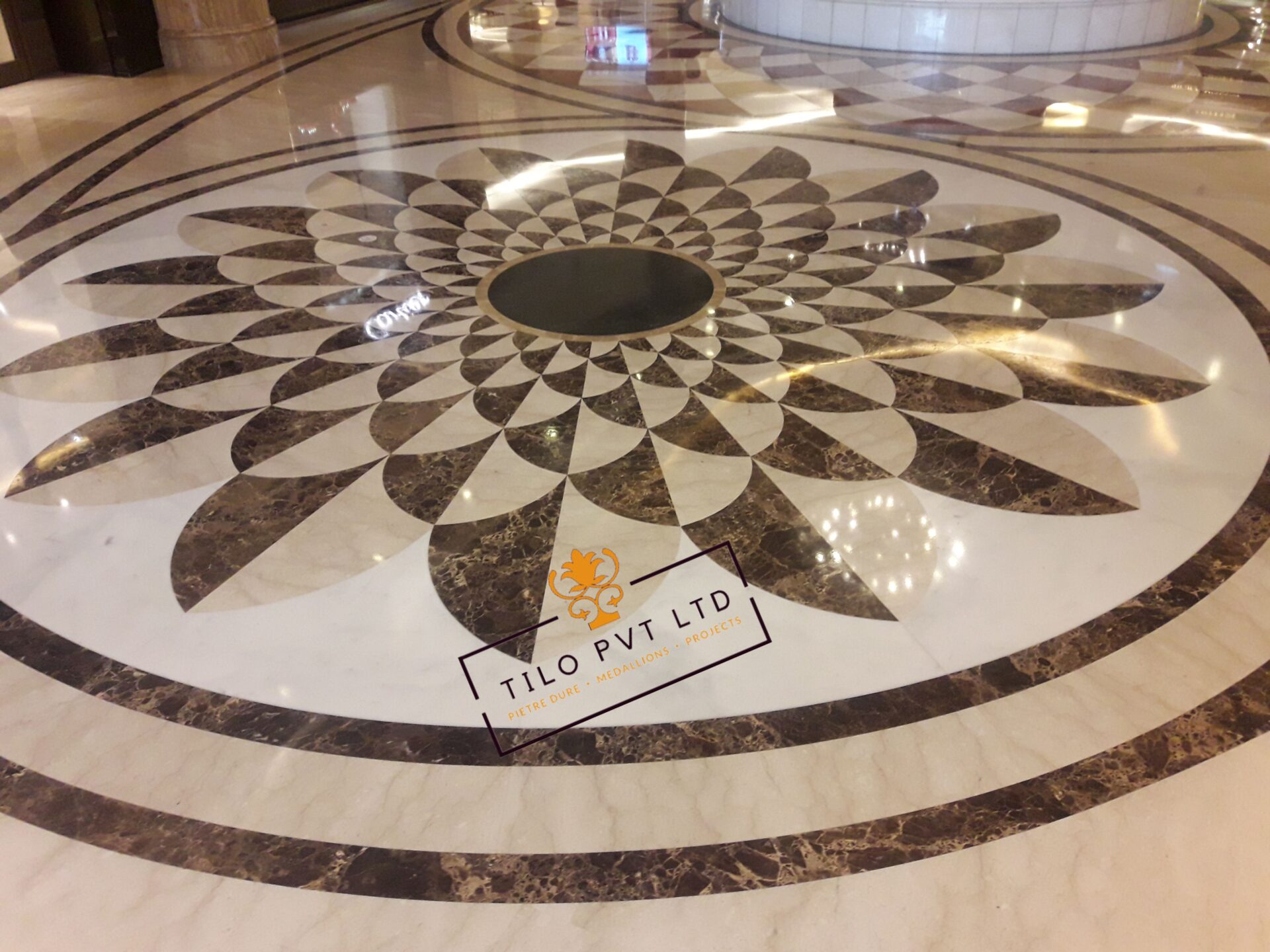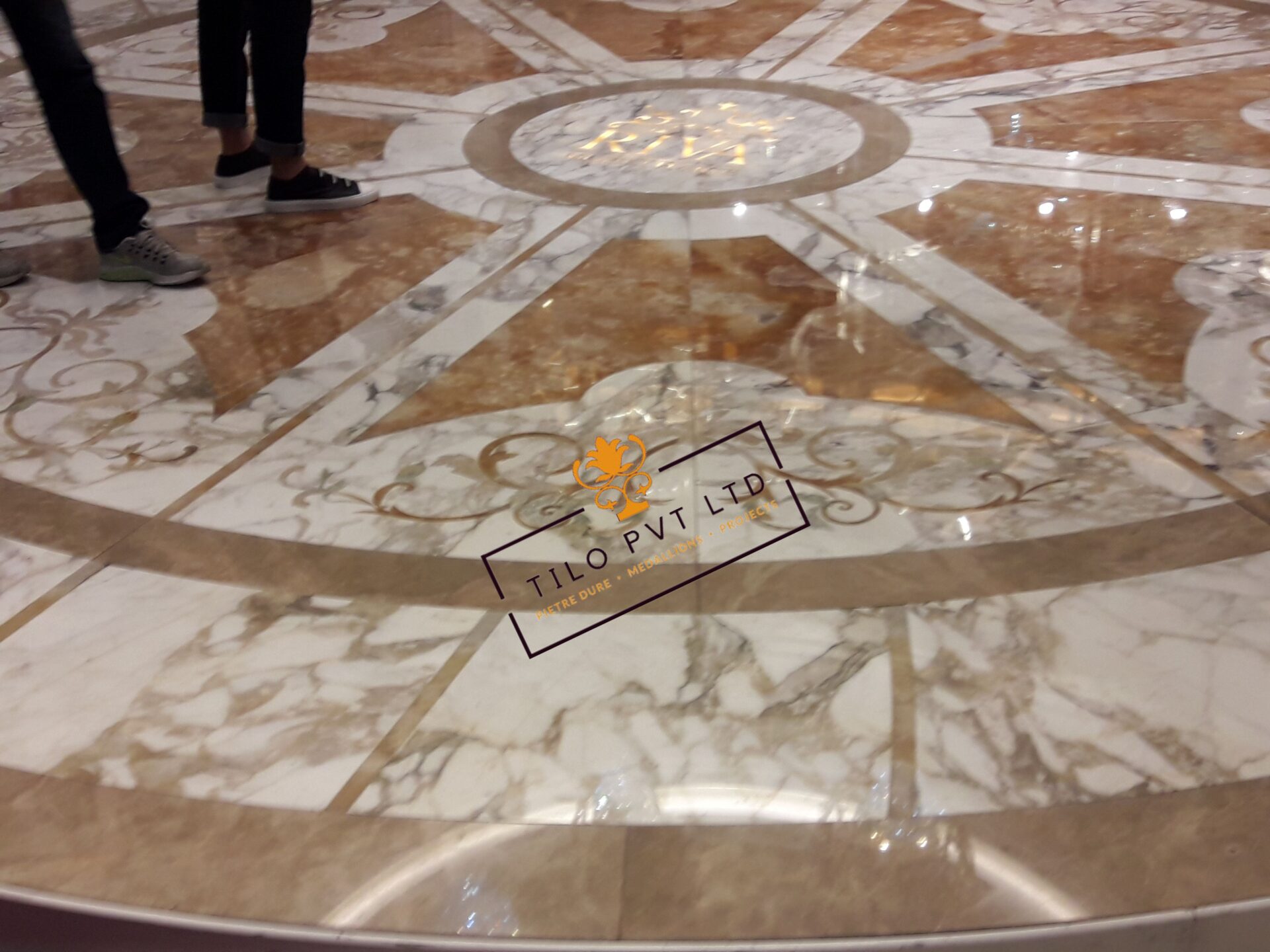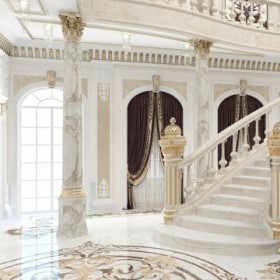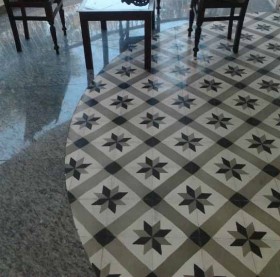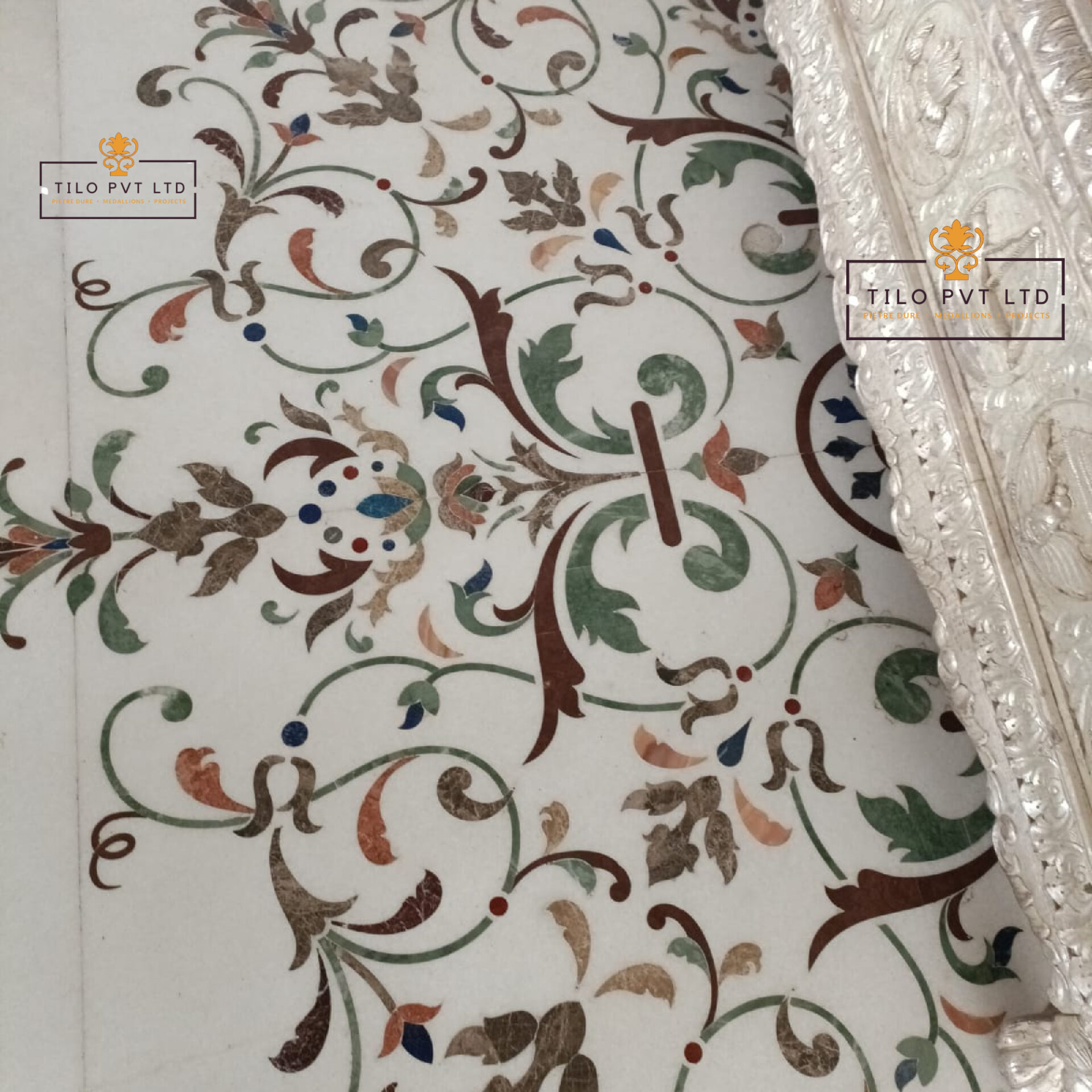 Pietra Dura Flooring
Pietra Dura Flooring, which translates to "hard stone" in Italian, is a decorative art form that involves creating intricate designs and images using carefully cut and polished colored stones. These designs are often used in various applications, including jewelry, decorative objects, and architectural elements like tabletops, wall panels, and yes, even flooring.
When it comes to Pietra Dura Flooring, this technique involves creating intricate patterns, images, or scenes by assembling small, precisely cut and polished stones of various colors and types to form a visually stunning and durable surface. The stones used can include marbles, semi-precious gemstones, and other hard stones with vibrant colors and interesting patterns. The stones are typically cut into various shapes and sizes to fit together like a jigsaw puzzle, and they are set into a solid backing material.
We create for you. We create with you.
Choose From a plethora of exclusively selected designs to share your own distinctive insights, we create a one-of-kind piece that reflects you.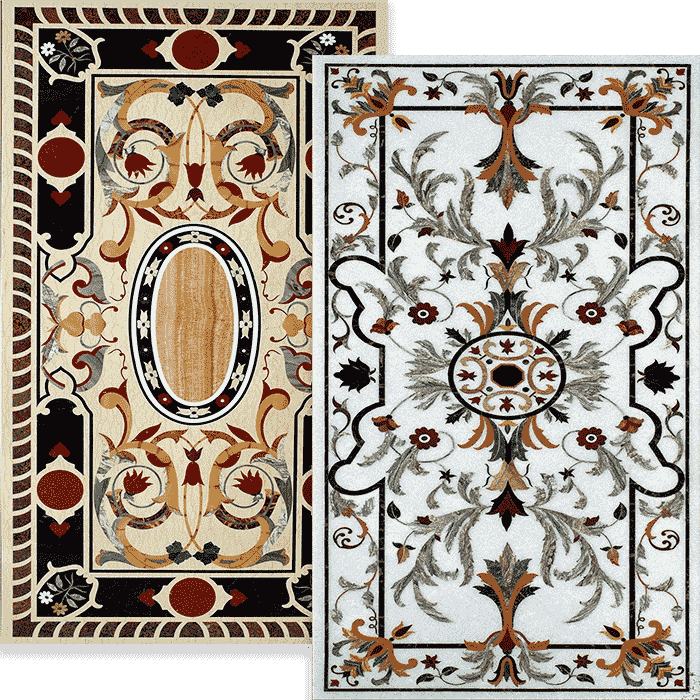 When exploring Custom Marble Inlay Flooring, it's necessary to search out styles that make a particular mood throughout the house additionally as complement the design and finishes of your home. Each Mosaic Marble Flooring style at Tilo Marble Inlay is galvanized by ancient and stylish European style and customized to your distinctive aesthetic.
Every Custom Marble Inlay Flooring project starts with associate degree in-depth voice communication with our shoppers wherever we have a tendency to discuss your style choices, our inlay collections and your specific tastes. Our artistic designers can then use your architectural plan or measurements to develop a rendering with designated color palettes and flooring designs, taking into thought our existing inlay collections, your current house and different style principles.
[divider-height=10px]

Natural Stone
Over two decades TILO has amassed a vast collection of rare precious, semi-precious and ornamental stones. The finest lapis lazuli from Afghanistan, the exquisite agate from Brazil, the vibrant malachite from the Congo, the perfect crystal from Madagascar, the rich Jaspers from Central India…
Technology
Although much of Tilo's expertise lies in the skills of artisans, we have the facilities and equipment to deal with virtually any scale of technology projects.
Design
Not only do we provide manufacturing services at Tilo, but with our in-house designers and consultants, we can develop your project with your first thoughts and dreams.
Our experience and an extensive reference library enable you to offer the widest possible choice of solutions, whether it is a luxury interior design, an interpretation of an existing work, or something completely new.
Artisan
We have highly skilled and extremely experienced Artisans which can turn any idea or imagination into reality. Our artisans have created marvels with marbles with extreme precision.
We Have Great
Achievement To Show !!



Tilo Pvt Ltd manufactures amazing Marble Articles which have Original Design and are rarely available in market. We have Marble Medallion at our Home and its design is just unique.

We recently redesigned our home and maximum part were replaced by Semiprecious stone slabs supplied by Tilo Pvt Ltd. Our house look like a paradise. Thank you for great product.

We have bought Agate countertops, fixed in wall and in kitchen and they look fabulous. Thank you Tilo Pvt Ltd  for great finished product.

Export Promotion Council for Handicraft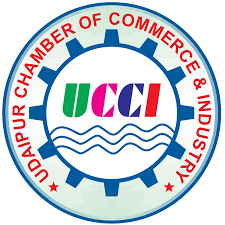 Udaipur Chamber of Commerce & Industry
India Trade Promotion Organisation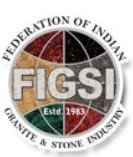 All India Granite & Stone Association

Centre for Development of Stone

Marble Inlay Flooring History
Marble Inlay Flooring & Marble Inlay Medallions has a rich history that dates back to ancient civilizations. It was commonly used in palaces, temples, and other grand buildings as a symbol of wealth and luxury. The ancient Egyptians, Greeks, and Romans were known for their intricate and detailed Marble Inlay Flooring Designs.

In the Renaissance period, Marble Inlay Flooring became popular in Italy, where skilled artisans developed new techniques to create intricate and detailed designs. This type of flooring was used in churches, palaces, and other grand buildings.

During the Victorian era, Marble Inlay Flooring was popular in England and was used in grand homes and public buildings. The Victorian era was known for its ornate and detailed designs, which were often influenced by Gothic and Renaissance styles.

Today, Marble Inlay Flooring is still used in high-end homes, hotels, and commercial spaces, and it is considered a luxury flooring option. It is a timeless and elegant design element that adds a touch of sophistication and luxury to any space.
FAQs
Marble inlay, also known as "Pietra Dura," is a decorative art form that involves embedding intricately cut and polished pieces of colored stones, semi-precious gemstones, or other materials into the surface of a marble base to create intricate designs or patterns.
2
What is Marble Inlay Flooring?
Marble inlay flooring refers to the application of the marble inlay technique on floors. It involves the creation of detailed and artistic designs using various stones and marbles, resulting in a visually stunning and durable flooring option.
3
What are the benefits of Marble Inlay Flooring?
Some benefits of Marble Inlay Flooring include its timeless beauty, durability, and resistance to wear and tear. It also offers a wide range of design possibilities, allowing for customization to suit specific aesthetic preferences.
4
Can Marble Inlay Flooring be used in both residential and commercial spaces?
Yes, Marble Inlay Flooring is versatile and can be used in a variety of settings including residential homes, commercial spaces, hotels, restaurants, and more. It adds an element of luxury and sophistication to any environment.
5
How do I care for Marble Inlay Flooring?
Marble Inlay Flooring should be regularly cleaned using a soft, non-abrasive cloth or mop and a mild, pH-neutral cleaner. Avoid using acidic or abrasive cleaners, as they can damage the surface. It's also advisable to reseal the marble periodically to maintain its luster and protect against stains.
6
Can I request custom designs for Marble Inlay Flooring?
Yes, many manufacturers and artisans offer custom design services for Marble Inlay Flooring. You can collaborate with them to create a unique and personalized pattern that suits your specific preferences and space.
7
Is Marble Inlay Flooring suitable for high-traffic areas?
Yes, Marble Inlay Flooring is known for its durability and can withstand high-traffic areas. However, it's important to properly maintain and clean the flooring to ensure its longevity.
8
How long does it take to install Marble Inlay Flooring?
The installation time for Marble Inlay Flooring can vary depending on factors such as the size of the area, complexity of the design, and the expertise of the installer. It's best to consult with the manufacturer or artisan for a specific timeframe.
9
Can Marble Inlay Flooring be installed outdoors?
Yes, Marble Inlay Flooring can be installed outdoors, but it's important to use materials and sealants that are suitable for outdoor applications to ensure longevity and resistance to weathering.
10
Where can I find reputable artisans or manufacturers for Marble Inlay Flooring?
Reputable artisans and manufacturers for Marble Inlay Flooring can be found through online searches, referrals from interior designers or architects, and by visiting specialized craft exhibitions or trade shows. It's important to review portfolios, read reviews, and request samples before making a decision.