We are an Award Winning Inlay Design Company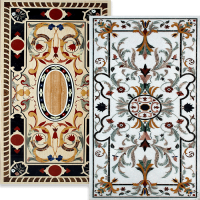 Since 1984, Tilo Pvt Ltd has specialized in working fine Marble Inlays and natural stones. With a manufacturing & crafting facility of Marble Inlays, availing of over 38+ years' experience in business, Tilo Pvt Ltd sets the benchmark for the Marble inlay designs.
The complete occupies a privileged position in niche markets with high supplementary price, characterised by high product-quality, made-to-order comes and an impressive level of service dedicated to buyers.
Tilo Pvt Ltd is that the ideal partner for comes that need Italian excellence in accomplishment, latest technologies and a high production capability.
Tilo handicrafts are considered an eminent manufacturer, exporter and supplier of India with its collection of Indian & imported natural stones and artifacts.
Tilo is a design lab where ideas, art and technology are combined together. Our group of rare talents realizes the dreams of art with extreme precision and balance.
Tilo has a state of the art facility to realize any precious art dream with a blend of semi-precious stones. An intricately crafted Custom Marble Inlay Flooring Design is a classy decor element that can make your homes and businesses feel like a timeless work of art.
We believe in awestrucking our clients by creating magnificent marvels out of marbles and natural stones.
Whether it is a luxury yacht, luxury hotel , a multinational headquarter or simply a gift, our artisans will turn your ideas into reality.
We Have Great Idea for Your
Handicraft Design
We share a belief in the transformational power of people united in a common purpose
Premium Raw Material
Our Primary Goal is to offer Superior Product Using Premium Quality Raw Materials. In-fact Using Premium Quality Raw Material We Have Made Sure That the Prices Are Kept Competitive and at Par with The Market Conditions
Timely Service
We are Always Known to Render Timely Service be Delivering The Ordered Material On Or before The Committed Date. We Always Follow the Principle That a Timely Service Impacts Other`s View of our Capability, Responsibility and Commitment.
New Technologies
As our R & D Team is from Sound and Strong Background we always believe in genuinely Implementing Our Resources in Creating and Understanding New technologies in this Field that does not exceed monetary prescribed limit.
With Design & Conceptual Decisions We Create Value for the Objects
Meet Our Team
We Have A Professional Team Member
Chetan Choudhary
Director
Shivsut Rao
Planning, Strategy