When it comes to exploring Marble Inlay Flooring, it is crucial to discover designs that not only establish a unique ambiance throughout your space but also harmonize with the style and finishes of your residence. At tilohandicrafts Marble Inlay, each mosaic marble flooring design draws inspiration from classical and sophisticated European aesthetics and is tailored to match your distinct sense of style.
Every custom Marble Inlay Flooring project commences with an in-depth consultation with our clients. During this phase, we delve into your design preferences, introduce you to our inlay work and collections, and gain insight into your specific tastes. Our creative designers then utilize your floor plan or measurements to create a visual representation featuring chosen color palettes and flooring styles. In this process, we take into account our existing inlay collections, the characteristics of your current space, and other fundamental design principles.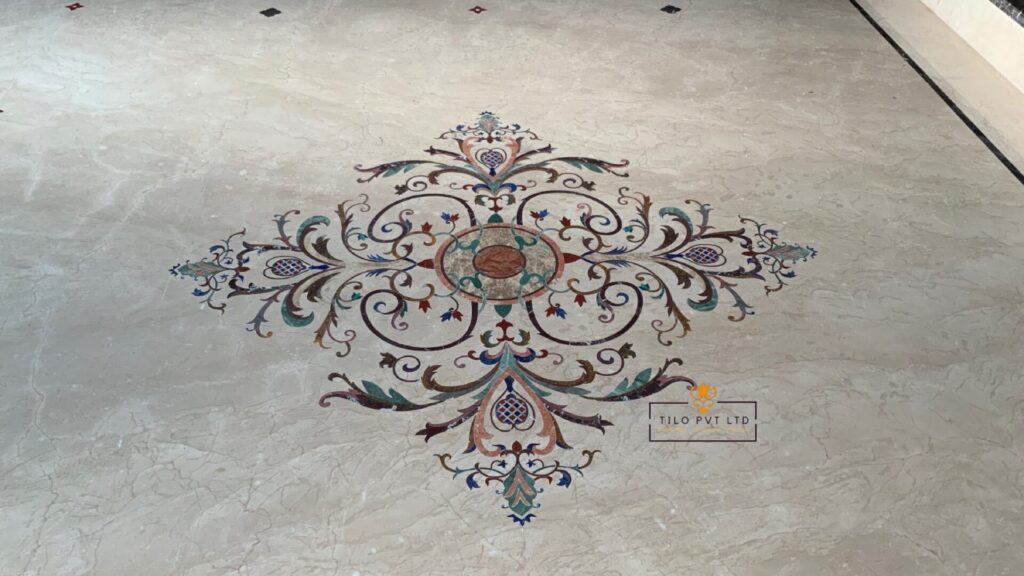 Once the initial sketch is completed, our designers prepare a comprehensive project budget to ensure you are comfortable with its scope. Subsequently, our team utilizes the preliminary flooring sketches to generate more intricate renderings of the stone inlays, complete with specific marble product samples. Once the design for the flooring is approved, we proceed to craft detailed shop drawings for your review. Each piece of stone is meticulously cut using advanced waterjet machinery and then hand-assembled to your precise specifications by our team of highly skilled artisans.
ACHIEVE ELEGANT DISTINCTION WITH CUSTOM MARBLE INLAYS FROM TILOHANDICRAFTS
With tilohandicrafts custom marble inlay patterns, achieving stunning and one-of-a-kind flooring becomes effortlessly attainable. Our seasoned and creative design experts are delighted to collaborate with you during a consultation to help you select the ideal marble inlay styles and materials that resonate with your personal preferences and enhance your home's existing architectural features. With a three-decade legacy of creating marble and semi-precious stone waterjet artistry, we are confident in our ability to craft a Marble Inlay Flooring Design that will surpass your highest expectations.